Tayside Local Medical Committee is the representative body for all General Medical Practitioners within Tayside Health Board area.
The elected representatives from the 3 Divisions (Angus, Dundee and Perth & Kinross) to the main committee for 2019/20 are:
Angus Elected Representatives:
Dr A Thomson, Ravenswood Surgery, Forfar
Dr Giles Ledlie, Springfield West, Arbroath
Vacancy

Dundee Elected Representatives:
Dr Andrew Cowie, Hawkhill
Dr Pascal Scanlan, Taybank
Dr Shawkat Hasan, Grove HC
Dr Claire Part, Westgate
Dr Claire Moir, job share
Vacancy

Perth & Kinross Elected Representatives:
Dr Andrew Buist, Ardblair, Blairgowrie
Dr Richard Humble, Strathmore Surgery, Blairgowrie
Dr David Shackles, Taymount Surgery, Perth
Dr Alan Smith, Taymount Surgery, Perth
Dr Sarah Carter, Red Practice, Crieff

Location Of Tayside GP practices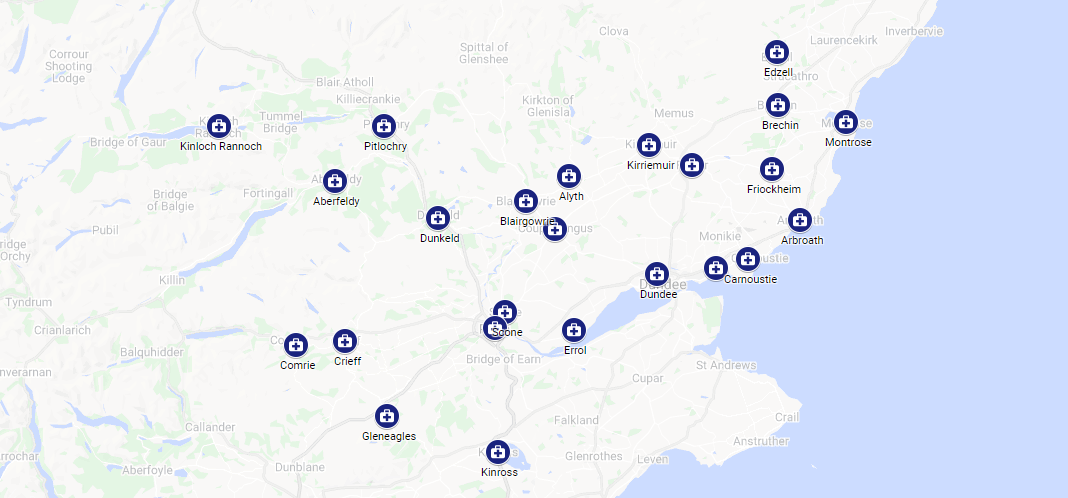 A union calls the proposed increase in England "pitiful", but ministers say money is tight.

The £79m forms part of a half-billion-pound pot for all mental health services.

R remains below 1, and a survey of community infections suggest around 1-in-230 people has the virus.

The first minister says she is confident Glasgow will not be cut from Uefa's list of host cities.

Nicola Sturgeon said more opportunities to see loved ones would be the "first steps" taken out of lockdown.

The first minister says it will be the first step out of lockdown, but urges people not to get carried away.